Kwarkbollen! Ik ben er fan van! Niet alleen omdat ze enorm lekker zijn, ook omdat je ze in een paar minuten gebakken en wel weer uit de oven kan halen. Je hoeft er dus niet uren voor in de keuken te staan. Daarnaast kan je enorm veel variaties maken! Een smaak voor de winter, voor de lente en zomer. Voor ieder wat wils. 
Dit keer een variant die eigenlijk perfect is voor elk jaargetijde. Tegenwoordig kan je namelijk de frambozen het gehele jaar door krijgen uit de vriezer. Net zo gezond, betaalbaar en lekker! 
Deze kwarkbollen met frambozen bevatten veel vezels en eiwitten. Door de toevoeging van volkorenmeel en kwark. Een heerlijk verzadigend tussendoortje of ontbijt!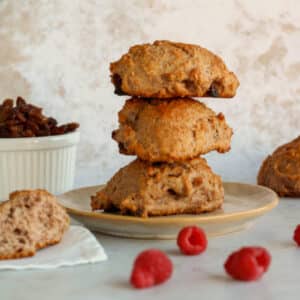 Kwarkbollen met frambozen
Een vezelrijk en eiwitrijk tussendoortje. Zorgt voor snelle verzadiging, waardoor je minder gaat snoepen en snacken.
Ingrediënten
200

g

kwark

50

g

frambozen

250

g

volkorenmeel

8

g

bakpoeder

2

eiren of 2 geprakte bananen

50

g

rozijnen

2

tl

citroenrasp en sap

2

el

zonnebloemolie
Instructies
Warm de oven voor op 180° C.

Meng de kwark en eieren of bananen door elkaar.

Pureer de frambozen of snijd deze in kleine stukjes. Voeg deze samen met de overige ingrediënten door het kwark mengsel. En meng goed door elkaar.

Bekleed een bakplaat met bakpapier.

Schep met 2 lepels ongeveer 12 kwarkbollen op de bakplaat.

Bak de kwarkbollen in ongeveer 15 minuten gaar.